As part of the IPNDV outreach symposium, "Innovations in Nuclear Disarmament Verification: Advancing Technology and Approaches," a call was put out for poster submissions from academics, technical experts, and government agencies to showcase the unique nuclear disarmament verification research being conducted around the world. More than 15 posters were received as a result of this call. Below, you can download the posters as PDF files by clicking on the images.   
Detecting the Presence and Location of Nuclear Material via a Novel Gamma Imaging Technology
D. Boardman, A. Flynn, L. Chartier, M. Guenette, N. Karantonis, J. Ilter, G. Watt, A. Sarbutt, Lennon Petkovich, Tagziria, A. Rozite, F. Raiola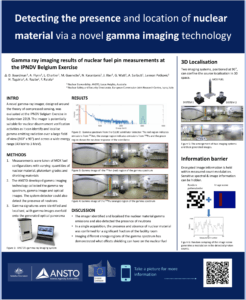 Fuel Cycle Modelling as a Disarmament Verification Tool
Anuradha Damale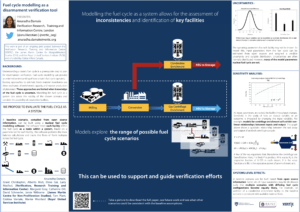 Experiments Show that Epithermal Neutron Beams can be used for Physically Cryptographic Warhead Verification 
Ezra Engel, Areg Danagoulian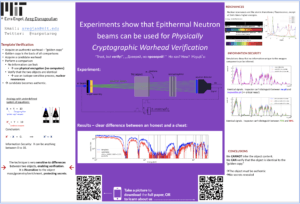 Integrated Nuclear Archaeology  
Antonio Figueroa, Malte Goettsche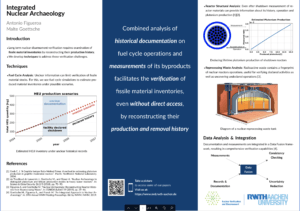 Examining the Effects of Different Shielding Configurations on the Sensitivity of Neutron and Gamma Based Verification Techniques  
Yannick Fischer, Patrick Schuck, Simon Hebel, Gerald Kirchner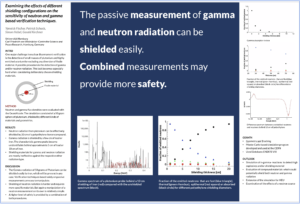 Epithermal Neutron Resonance Imaging for Nuclear Disarmament
Ethan A. Klein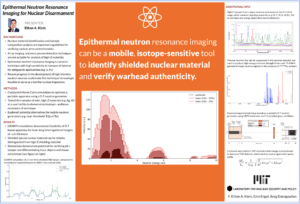 Evaluating the Detectability of Fissile Material
Manuel Kreutle, Gerald Kirchner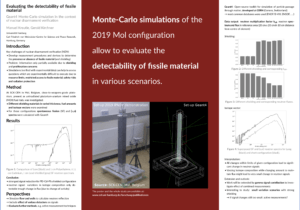 New Concepts for Template-Based Information Barriers: IBX & IBX II
M. Kütt, A. Glaser
Data Science in Nuclear Disarmament Verification – Extracting Verification-relevant Information from Geospatial Big Data
Irmgard Niemeyer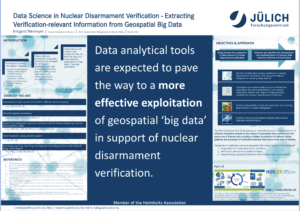 Disarmament Verification via Intrinsically Safeguarded Information
Eduardo Padilla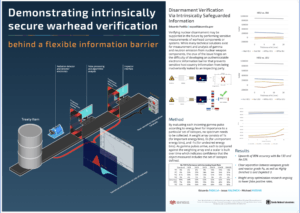 Deferred Verification: Verifiable Declarations of Fissile Material Stocks
Pavel Podvig, Joseph Rodgers, Presented by Laetitia Zarkan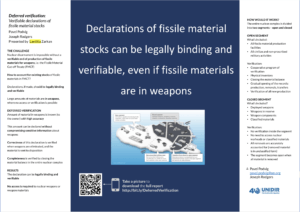 Simplifying the Elimination of Fissile Materials and Nuclear Weapons
Pavel Podvig, Ryan Snyder, Presented by Laetitia Zarkan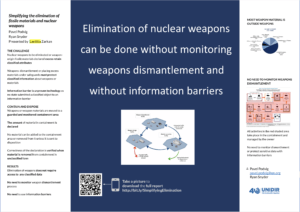 Portal Monitor for Authentication and Certification
Dr. Alicia Swift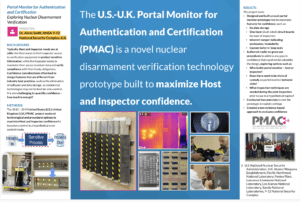 Robust Neutron Field Direction and Spectrum Measurement Demonstrated with the nFacet 3D Detector
Nicholas Reed & Antonin Vacheret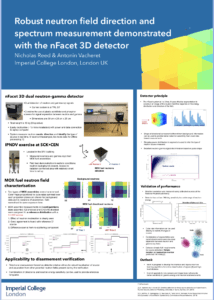 Warhead Verification with NRF
Jayson R. Vavrek
Evidence of Absence: Verifying the Removal of Nuclear Weapons
Pavel Podvig, Ryan Snyder, Wilfred Wan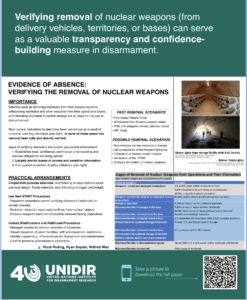 Development of an NQR Demonstrator for High Explosives Verification in Arms Control
P. Dodd, C. Entwistle, R. Jenkinson, I. Laurie, J. May, S. McOmish, S. Pitts, J. Schofield, B. Stanley, N. Thompson, A. Axelsson, H. Lundén, M. Nordberg, D. Sunhede, J. Wirstam, B. Zachhuber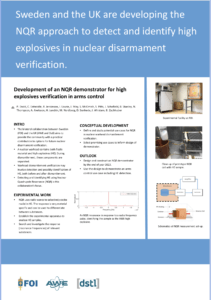 Verifying Baseline Declarations of Fissile Materials for Stability and Irreversibility of Nuclear Disarmament
Madalina Wittel, Malte Göttsche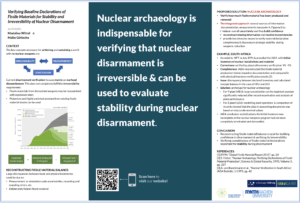 Please note, the views expressed in these posters do not necessarily reflect the views of the IPNDV or its individual partners.